Rafters Music Club

Rafters is a friendly music club in central Auckland.

Held on the 3rd Friday of each month
Time: 8-11pm

Admission: $10

Venue: Unitarian Church, 1a Ponsonby Road. Next to the Art Station. Between K'rd and Hopetoun St.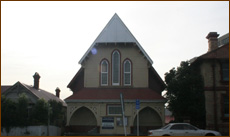 Rafters Music Club promotes music from traditional to contemporary.

Our format is open mic (without a mic!) in first half, supper, then guest/s. Anyone who would like to perform in first section is welcome to, provided we have time for you!

Tea, coffee & biscuits provided for supper.



Contact Rafters

Email: raftersmusicclub@outlook.com





Music Club Links

- Auckland Bluegrass

- Devonport Folk Music Club

- East Coast Folk Club

- Titirangi Folk Music Club

- Auckland Folk Festival. A great camping weekend full of concerts, workshops, dances and fun.
Friday 17th March 2017
Our guest this month is
Nigel Gavin
and friends
If you've already witnessed one of Nigel Gavin's virtuoso performances then you'll need no persuading to see him again at Rafters on Friday 17th March. Nigel has been described as "one of New Zealand's musical treasures" (Tauranga Weekend Sun) and Nick Bollinger has waxed lyrical saying that "his hands seem to be wired to an imagination that never goes blank. Gavin's guitar is ringing with ideas and to simply sit back and soak them up is unalloyed pleasure". His style ranges from Jazz to Blues to Folk to Classical: a master of many genres. Along with the extra bonus of his talented friends what better way could there be to you start your weekend.
The first half of the evening brings musicians old and new to warm us up before supper and our main guests. You will need to be there well before the 8pm start if you want to perform as there are limited places.
See you there.
Rafters Music Club: http://www.raftersmusic.co.nz
Email: raftersmusicclub@outlook.com
Facebook: https://www.facebook.com/raftersmusicclub/