Rafters Music Club

Rafters is a friendly music club in central Auckland.

Held on the 3rd Friday of each month
Time: 8-11pm

Admission: $10

Venue: Unitarian Church, 1a Ponsonby Road. Next to the Art Station. Between K'rd and Hopetoun St.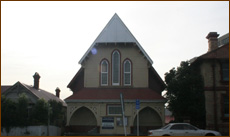 Rafters Music Club promotes music from traditional to contemporary. We welcome new performers.

Our format is open mic (without a mic!) in the first half, supper, then guest/s. Anyone who would like to perform in the first half is welcome to see Graham at the door, but please put your name down before the 8.00pm start.
Tea, coffee & biscuits provided for supper.



Contact Rafters

Email: jenniferhowarth0@gmail.com
raftersmusicclub@gmail.com




Music Club Links

- Auckland Bluegrass

- Devonport Folk Music Club

- East Coast Folk Club

- Titirangi Folk Music Club
- The Barebones Acoustic Folk Club

- Auckland Folk Festival. A great camping weekend full of concerts, workshops, dances and fun.
Held at The Unitarian Church
1a Ponsonby Road
at 8pm every 3rd Friday of the Month.

Entry fee $10

Our Guests for Friday August 19th will be
Micheal Young

At last, after months of Covid delays, we have a chance to hear Micheal Young. Micheal is familiar to many of us as a vocalist and musician in a number of well-know bands such as Wires & Wood, Too Far Gone, and more recently, Albi and the Wolves. His love of guitar and other stringed instruments (mandolin, upright bass, banjo - if it has strings he can probably play it!) began in his teenage years, and his musical skills have grown to include becoming a successful recording engineer. However this guest spot he will be focused on his strength as a solo artist inspired by singer/songwriters like David Wilcox, James Taylor, Lyle Lovett and Guy Clark. If you heard him perform a couple of numbers last month at Rafters then you'll be back for more of this talented performer.

Unfortunately, the kitchen will be not be open on Friday night, so we will be unable to provide supper. We will, however, have a short break between the first and second half so that you can have a catch up with friends.

Club Protocols

1. Entry via a vaccine pass please.

2. Please wear a mask. Performers do not need to wear a mask while performing. You do not need to wear a mask while eating or drinking.

3. We will distance seating, but you are welcome to move the chairs into bubbles if you so wish.

4.And while we will miss you, we also ask that if you are feeling unwell, that you please stay snug at home.

While we respect and understand that everyone has the right to make their own choices and hold their own beliefs, we are committed to ensuring the safety and wellbeing of all our attendees and this must be our priority. We will review our safety protocols over time.
Programme
The first half of the evening brings musicians old and new to warm us up before supper and our main guest/s. We welcome new performers. See Graham at the door if you want to perform, but you will need to be there before the 8pm start.

Photos and Videos
Photos and some videos of performances will be taken during the evening and displayed on our Facebook page. We also have a Rafters Music Club YouTube channel where we display some videos (type Rafters Music Club into YouTube search to find these videos). Please see Linda if you do not want your images publicly available.

See you there
Graham, Linda, Jennifer and Alistair