Rafters Music Club

Rafters is a friendly music club in central Auckland.

Held on the 3rd Friday of each month
Time: 8-11pm

Admission: $10

Venue: Unitarian Church, 1a Ponsonby Road. Next to the Art Station. Between K'rd and Hopetoun St.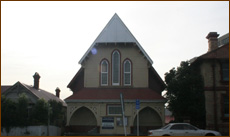 Rafters Music Club promotes music from traditional to contemporary. We welcome new performers.

Our format is open mic (without a mic!) in the first half, supper, then guest/s. Anyone who would like to perform in the first half is welcome to see Graham at the door, but please put your name down before the 8.00pm start.
Tea, coffee & biscuits provided for supper.



Contact Rafters

Email: jenniferhowarth0@gmail.com
raftersmusicclub@gmail.com




Music Club Links

- Auckland Bluegrass

- Devonport Folk Music Club

- East Coast Folk Club

- Titirangi Folk Music Club
- The Barebones Acoustic Folk Club

- Auckland Folk Festival. A great camping weekend full of concerts, workshops, dances and fun.
Held at The Unitarian Church
1a Ponsonby Road
at 8pm every 3rd Friday of the Month.

Entry fee $10

Our Guests for Friday May 20th will be

Sadie and Jay
Third time lucky! And just how lucky, you will realise when you come to hear Sadie Jones and Jay Penman (a member of the renowned Penman family) perform for us at Rafters this month. Now based in New Zealand after many years of award winning performances in Australia, Sadie and Jay sing captivating songs accompanied by guitar, mandolin and double bass. Jay's Scottish background and immersion in traditional British folk music along with Sophie's Welsh heritage shine through, as together they create beautiful songs with glorious harmonies that will linger in your mind long after you have gone home. They capture stories of the past, current issues that beg to be expressed and reflections on life that will leave you wanting more. Don't miss them while you have the chance.
Club Protocols

1. Entry via a vaccine pass please.

2. Please wear a mask. Performers do not need to wear a mask while performing. You do not need to wear a mask while eating or drinking.

3. We will distance seating, but you are welcome to move the chairs into bubbles if you so wish.

4.And while we will miss you, we also ask that if you are feeling unwell, that you please stay snug at home.

While we respect and understand that everyone has the right to make their own choices and hold their own beliefs, we are committed to ensuring the safety and wellbeing of all our attendees and this must be our priority. We will review our safety protocols over time.
Programme
The first half of the evening brings musicians old and new to warm us up before supper and our main guest/s. We welcome new performers. See Graham at the door if you want to perform, but you will need to be there before the 8pm start.

Photos and Videos
Photos and some videos of performances will be taken during the evening and displayed on our Facebook page. We also have a Rafters Music Club YouTube channel where we display some videos (type Rafters Music Club into YouTube search to find these videos). Please see Linda if you do not want your images publicly available.

See you there
Graham, Linda, Jennifer and Alistair