Rafters Music Club

Rafters is a friendly music club in central Auckland.

Held on the 3rd Friday of each month
Time: 8-11pm

Admission: $10

Venue: Unitarian Church, 1a Ponsonby Road. Next to the Art Station. Between K'rd and Hopetoun St.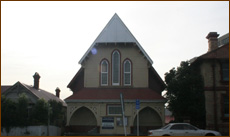 Rafters Music Club promotes music from traditional to contemporary. We welcome new performers.

Our format is open mic (without a mic!) in the first half, supper, then guest/s. Anyone who would like to perform in the first half is welcome to see Graham at the door, but please put your name down before the 8.00pm start.
Tea, coffee & biscuits provided for supper.



Contact Rafters

Email: jenniferhowarth0@gmail.com




Music Club Links

- Auckland Bluegrass

- Devonport Folk Music Club

- East Coast Folk Club

- Titirangi Folk Music Club
- The Barebones Acoustic Folk Club

- Auckland Folk Festival. A great camping weekend full of concerts, workshops, dances and fun.
Rafters Music Club
Held at The Unitarian Church 1a Ponsonby Road on the third Friday of each month
Friday 15th June 2018 at 8pm
Nick Brightwell
If you've heard Nick Brightwell before then you'll be back for more! Last year he was the Senior Instrumentalist award winner at the New Zealand Gold Guitar awards and last weekend he won again. Nick describes finger-style guitar as playing classical guitar on a steel stringed instrument, but in our experience of his playing it is much more than that. He draws on Celtic, Blues, Country, Classical and Contemporary styles to create a varied and exciting exploration of the limits of what the guitar can do. Join us as this extraordinarily talented young man shares songs and his instrumentals with us.

Rafters Programme
The first half of our evening brings musicians old and new to warm us up before supper and our main guests. We welcome new performers. See Graham at the door if you want to perform, but you will need to be there before the 8pm start.

Photos and Videos
Photos and some videos of performances will be taken during the evening and displayed on our Facebook page. We also have a Rafters Music Club Youtube channel where we display some videos (type Rafters Music Club into Youtube search to find these videos). Please see Linda if you do not want your images publically available.

See you there
Graham, Jennifer, Linda and Alistair

If you would like to subscribe to our email list send your email address to either:
raftersmusicclub@gmail.com
or message us via Rafters Facebook page

Rafters Music Club: http://www.raftersmusic.co.nz
Facebook: www.facebook.com/raftersmusicclub/
Email: jenniferhowarth0@gmail.com
Copyright © 2018 Rafters Music Club, All rights reserved.