Rafters Music Club

Rafters is a friendly music club in central Auckland.

Held on the 3rd Friday of each month
Time: 8-11pm

Admission: $10

Venue: Unitarian Church, 1a Ponsonby Road. Next to the Art Station. Between K'rd and Hopetoun St.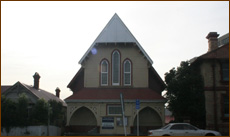 Rafters Music Club promotes music from traditional to contemporary. We welcome new performers.

Our format is open mic (without a mic!) in the first half, supper, then guest/s. Anyone who would like to perform in the first half is welcome to see Graham at the door, but please put your name down before the 8.00pm start.
Tea, coffee & biscuits provided for supper.



Contact Rafters

Email: jenniferhowarth0@gmail.com
raftersmusicclub@gmail.com




Music Club Links

- Auckland Bluegrass

- Devonport Folk Music Club

- East Coast Folk Club

- Titirangi Folk Music Club
- The Barebones Acoustic Folk Club

- Auckland Folk Festival. A great camping weekend full of concerts, workshops, dances and fun.

Usually held at The Unitarian Church
1a Ponsonby Road
at 8pm
every 3rd Friday of the Month.
$10 Entry fee
Please note that we will meet on the 4th Friday this month

Our guest for Friday November 27th 2020 will be

Diane Ponzio


Diane Ponzio, born and raised in New York City, and graduate of the prestigious "Fame" school, has toured all over the world as a global ambassador for The Martin Guitar Company, and has done solo concert tours in Germany, England, Austria, and Denmark and has released 10 full length CDs of original songs. As a singer-songwriter-gutarist , her songs are melodic and intelligent, featuring her jazz influenced percussive guitar style and a saxophone like mezzo.This will be an evening of of music that moves you: physically, emotionally, and intellectually .
www.dianeponzio.com


Once again, in keeping with Government recommendations and at the Church's request, we ask that you follow 2 simple rules:

1. Upon entry every person will be required to use the NZ Government contact app to scan the QR code, or complete the NZ Government tracing form.
2. Upon entry everyone will use the hand sanitiser provided by the church.
And while we will miss you, following the Government recommendations for Level 1, we also ask that if anyone is feeling unwell, that you stay warm and snug at home.

Programme
The first half of the evening brings musicians old and new to warm us up before supper and our main guest/s. We welcome new performers. See Graham at the door if you want to perform, but you will need to be there before the 8pm start.
Photos and Videos
Photos and some videos of performances will be taken during the evening and displayed on our Facebook page. We also have a Rafters Music Club YouTube channel where we display some videos (type Rafters Music Club into YouTube search to find these videos). Please see Linda if you do not want your images publicly available.
Looking forward to seeing everyone,
Graham, Linda, Jennifer and Alistair

If you would like to subscribe to our email list send your email address to:
raftersmusicclub@gmail.com
or message us via Rafters Facebook page