Rafters Music Club

Rafters is a friendly music club in central Auckland.

Held on the 3rd Friday of each month
Time: 8-11pm

Admission: $10

Venue: Unitarian Church, 1a Ponsonby Road. Next to the Art Station. Between K'rd and Hopetoun St.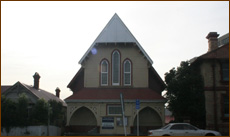 Rafters Music Club promotes music from traditional to contemporary. We welcome new performers.

Our format is open mic (without a mic!) in first half, supper, then guest/s. Anyone who would like to perform in the first section is welcome to see Graham at the door. You will need to arrive early as, unfortunately, we have limited spaces.

Tea, coffee & biscuits provided for supper.



Contact Rafters

Email: jenniferhowarth0@gmail.com




Music Club Links

- Auckland Bluegrass

- Devonport Folk Music Club

- East Coast Folk Club

- Titirangi Folk Music Club

- Auckland Folk Festival. A great camping weekend full of concerts, workshops, dances and fun.
Rafters Music Club
Held at The Unitarian Church 1a Ponsonby Road on the third Friday of each month
Entry fee $10

Our Guests for June 16th will be
SCALLYWAG
Scallywag consists of three very well know folk performers: Jean Reid, Andrea Reid and Ian Bartlett
Jean has been celebrated on the folk scene for over 40 years as a fine exponent of British Traditional music.

Daughter Andrea has been performing with her mum for much of her life and is a formidable talent in her own right.

Ian's skills as a piper and bodhran player are legendary and both he and Jean are members of the renowned vocal group SuperSheep.

Instruments in the mix include guitar, dulcimer, mandolin, whistles, harmonica, bodhran and Northumbrian and Scottish smallpipes.
So expect tunes, trad. songs, originals and harmonies and above all, a fun night in the company of Scallywag!
But wait there's more: Bring your instruments and voices if you want to join a final half hour jam session at the end of the evening.

The first half of the evening brings musicians old and new to warm us up before supper and our main guests. We welcome new performers. See Graham at the door if you want to perform, but you will need to be there well before the 8pm start as there are limited places.

See you there,
Graham, Linda and Jennifer


Rafters Music Club: http://www.raftersmusic.co.nz
Facebook: www.facebook.com/raftersmusicclub/
Email: jenniferhowarth0@gmail.com
Copyright © 2017 Rafters Music Club, All rights reserved.