Rafters Music Club

Rafters is a friendly music club in central Auckland.

Held on the 3rd Friday of each month
Time: 8-11pm

Admission: $10

Venue: Unitarian Church, 1a Ponsonby Road. Next to the Art Station. Between K'rd and Hopetoun St.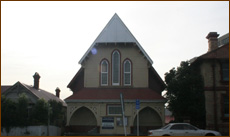 Rafters Music Club promotes music from traditional to contemporary. We welcome new performers.

Our format is open mic (without a mic!) in first half, supper, then guest/s. Anyone who would like to perform in the first section is welcome to see Graham at the door. You will need to arrive early as, unfortunately, we have limited spaces.

Tea, coffee & biscuits provided for supper.



Contact Rafters

Email: jenniferhowarth0@gmail.com




Music Club Links

- Auckland Bluegrass

- Devonport Folk Music Club

- East Coast Folk Club

- Titirangi Folk Music Club

- Auckland Folk Festival. A great camping weekend full of concerts, workshops, dances and fun.
Rafters Music Club
Held at The Unitarian Church 1a Ponsonby Road on the third Friday of each month
What do you do when your guests have to pull out at the last minute through no fault of their own?
Why you get two of the best performers you know and ask them to do a few numbers each in the second half! Which is why James Fromont and Nick Brightwell will be sharing the spotlight on Friday May 19th 2017.
James is a talented guitarist with a unique style. He is also a fine composer and songwriter.
Nick Brightwell is a blues and finger style guitarist. He first studied at the New Zealand School of Music in Wellington and then at the Peck School of fine Arts at the University of Wisconsin, Milwaukee. He graduated with a Bachelor of Fine Arts majoring in Fingerstyle Performance. These two musicians should make for an exciting evening of music.
But wait there's more: Bring your instruments if you want to join the grand finale. Linda and Alistair will lead us in a four song jam session to end the evening.
The first half of the evening still brings musicians old and new to warm us up before supper and our main guests. We welcome new performers. See Graham at the door if you want to perform, but you will need to be there well before the 8pm start as there are limited places.
See you there.
Rafters Music Club: http://www.raftersmusic.co.nz
Email: jenniferhowarth0@gmail.com
Facebook: https://www.facebook.com/raftersmusicclub/