Rafters Music Club

Rafters is a friendly music club in central Auckland.

Held on the 3rd Friday of each month
Time: 8-11pm

Admission: $10

Venue: Unitarian Church, 1a Ponsonby Road. Next to the Art Station. Between K'rd and Hopetoun St.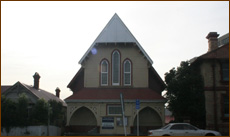 Rafters Music Club promotes music from traditional to contemporary. We welcome new performers.

Our format is open mic (without a mic!) in the first half, supper, then guest/s. Anyone who would like to perform in the first half is welcome to see Graham at the door, but please put your name down before the 8.00pm start.
Tea, coffee & biscuits provided for supper.



Contact Rafters

Email: jenniferhowarth0@gmail.com




Music Club Links

- Auckland Bluegrass

- Devonport Folk Music Club

- East Coast Folk Club

- Titirangi Folk Music Club
- The Barebones Acoustic Folk Club

- Auckland Folk Festival. A great camping weekend full of concerts, workshops, dances and fun.
Rafters Music Club
Held at The Unitarian Church 1a Ponsonby Road
at 8pm on the third Friday 0f the month
Our guest for Friday September 20th 2019 will be:
The Skiffy Rivets

The Skiffy Rivets are back at Rafters this month with their own brand of harmonised singing, that will leave you unable to sit still for more than a second or two.
It's not often you hear blended vocals like Pete Parnham, Holly Carrington and Sue Tearne present across such a varied musical palette. They shift effortlessly around a wealth songs borrowed from Americana, swing, bluegrass, folk and country traditions, all sung against the backdrop of Pete's colourful acoustic and slide guitars. It's an energetic and contagious mix that is sure to be relished by any acoustic music lover.
The band was formed in response to the enthusiastic applause they received when they sang together for a blackboard concert at the 2015 Waharau Folk Festival. Their Elbow Room CD followed in 2016, and The Skiffy Rivets are now welcome performers around the country and are guests this year at the Wellington Folk Festival.
Programme
The first half of the evening brings musicians old and new to warm us up before supper and our main guest/s. We welcome new performers. See Graham at the door if you want to perform, but you will need to be there before the 8pm start.

Photos and Videos
Photos and some videos of performances will be taken during the evening and displayed on our Facebook page. We also have a Rafters Music Club YouTube channel where we display some videos (type Rafters Music Club into YouTube search to find these videos). Please see Linda if you do not want your images publicly available.

See you there
Graham, Jennifer, Linda and Alistair.

If you would like to subscribe to our email list send your email address to either:
raftersmusicclub@gmail.com
or message us via Rafters Facebook page

Rafters Music Club: http://www.raftersmusic.co.nz
Facebook: www.facebook.com/raftersmusicclub/

Copyright © 2019 Rafters Music Club, All rights reserved.